1930 – 2015: Appreciation of 85 years "Schleizer" vehicles

On June 28th, 1930 - i.e. 85 years ago - the company "Schleizer Kleinbahn AG" opened its railway line from Schleiz to Saalburg (Saale) in what is today the "Land of Thuringia". The length of this line was 15 kilometers and it served for public transport. The company was a private stock corporation and was subject to the Prussian law for local railroads ("Preußisches Kleinbahngesetz") of 1892. It had been founded in 1927 and should as well serve for the transport of construction materials for the erection of a large hydro dam (the "Bleiloch" barrage). For this reason, a branch line of 2.4 km length was laid from the station of Gräfenwarth to the dam. The historic residential city of Schleiz had been connected to the residual railroad network since 1887 via the branch line from Schönberg, positioned at the Saxonian DW main line (Dresden-Werdau). According to the availability of electric power from the dammed lake and based on the local legal conditions the line should be operated electrically. People decided for overhead wiring and DC 1200 V, which was initially installed on the trunk line only. The branch was operated by a T93 2-6-0 tank engine owned by the consortium of the construction companies of the dam. Lateron, this branch was electrified as well and passenger services to the dam were inaugurated on May 15, 1932.
After WW II, the line was taken over by Deutsche Reichsbahn of GDR on April 1st, 1949. Electric operation with the "inherited" vehicles was continued until May 31st, 1969, when extensive restoration measures were due. Diesel vehicles took over, above all the light railcars of classes 171 and 172 and loco-hauled trains with V100. Deutsche Bahn AG held these operations upright but abandoned them on June 1st, 1996, and shut down the line. Sadly, none of the efforts to revitalize the lines in the consecutive years were successful.
Not all of the characteristic electric vehicles of the original equipment were scrapped. At least the passenger electric railcar ET 188 511, the passenger electric trailer EB 188 514 and the freight electric railcar ET 188 521 were used in other modes since 1972:
- ET 188 511 as a technical service car in the depot in Reichenbach,
- EB 188 514 as a technical service car in the branch depot in Adorf (belonging to the depot in Reichenbach),
- ET 188 521 as a workshop vehicle.
Several members of the railroad depot in Dresden visited the freight railcar in 1990 after it had been re-discovered and identified on occasion. Shortly later, the other two vehicles were re-discovered as well.

After passing numerous "bureaucratic barriers", with intense personal efforts and in a very skilled manner, they refurbished the three vehicles in top condition and present them in the museum depot of Dresden-Altstadt ever since.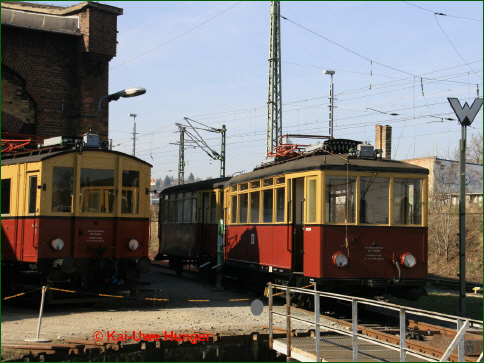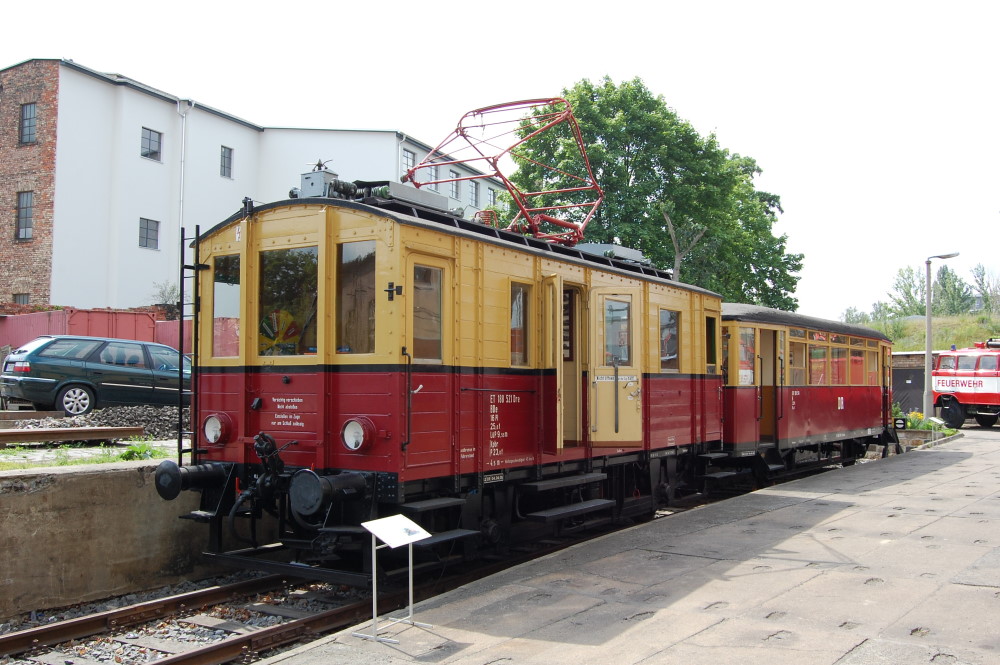 Dr. Christof Schröfl, based on archive data of IG Bw Dresden-Altstadt e.V. and provided by Alfred Hobl
February 2015