Home
E 77 10, built in 1925, tenderly nicknamed "Elli"
– a special appreciation to celebrate her 90th birthday

(an anniversary text by our colleague Alfred Hobl)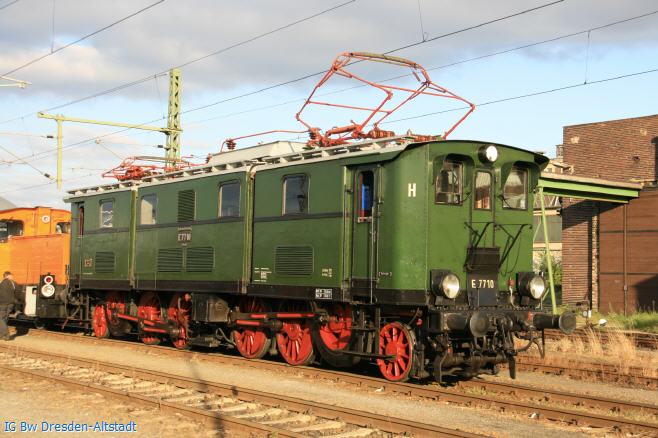 Our wonderful historic electric loco E 77 10 had its last general inspection three years ago. On October 4th, 2012, the oldest and – by that time the only – German electric loco with rod drive in active working condition hauled a charter passenger train from Dresden to Eisenach in preparation of the chassis inspection. The next day, Meiningen's V 100 Diesel locomotive transferred it to the Meiningen heavy repair works. There, E 77 10 – which is owned by DB Museum and under the operative protection of Erzgebirgsbahn – received new wheel tyres at all wheelsets. Additionally, the oil in the transformator has been exchanged and the radio communication and INDUSI installation checked and updated.
After an extensive, intense general inspection (which included overhaul and repair of components) this only, still active electric locomotive with rod drive returned to Dresden in December 2013 and was presented at the 6th Dresden Steam Engine Festival with celebration week from April 4th to 13th, 2014, on behalf "175 years of first German wide-range railway Leipzig?Dresden" in refurbished beauty. Promoting joy to numerous visitors and railway enthusiasts from all over the world, E 77 10 hauled excursion passenger trains through the beautiful Elbe river valley and up the Tharandt's steep inclination (Tharandter Rampe).
Financing was done by IG Bw Dresden-Altstadt – a cordial thank you to all sponsors, donators, supporters and intensely committed colleagues.
A special highlight was the semi-public excursion train on May 28th, 2015, to Zwickau via Freiberg, Chemnitz (including parallel driving with electric locomotive 242 001 of MTEG/PRESS) and back. In the next year as well, special trains will be offered with E 77 10 through the beautiful Elbe river valley and up the Tharandt's steep inclination.
Questions & booking:
>>> Reisebüro Maertens <<<, Tel.: 0351 / 56393930
In the frame of the 8th Dresden Steam Engine Festival (15.-17.04.2016) with the motto freight service yesterday and today, "our Elli" will be hauling special trains. Further information >>> here <<<.