14th Dresden Steam Engine Festival 23th - 25th September 2022
150th anniversary of "Bahnbetriebswerk Dresden-Altstadt"
On this site we will publish all information about the festival, the corresponding special steam trains and the surrounding program, as soon as they are fix set up.

Information about the availability of locomotives around the festival ground:
On Saturday, 01 2066 and 01 1519 will operate our train to Berlin and can not be seen in our roundhouse over the day. On Friday and Sunday both locomotives will be on or around our festival ground.
50 3648 will be in our around our festival ground on Friday morning and the whole day on Saturday and Sunday. 52 8141 can be seen on Friday and Saturday over the opening hours, 35 1097 will be around on all 3 days.
On Saturday, 52 8154 will visit us from Leipzig.
Find here: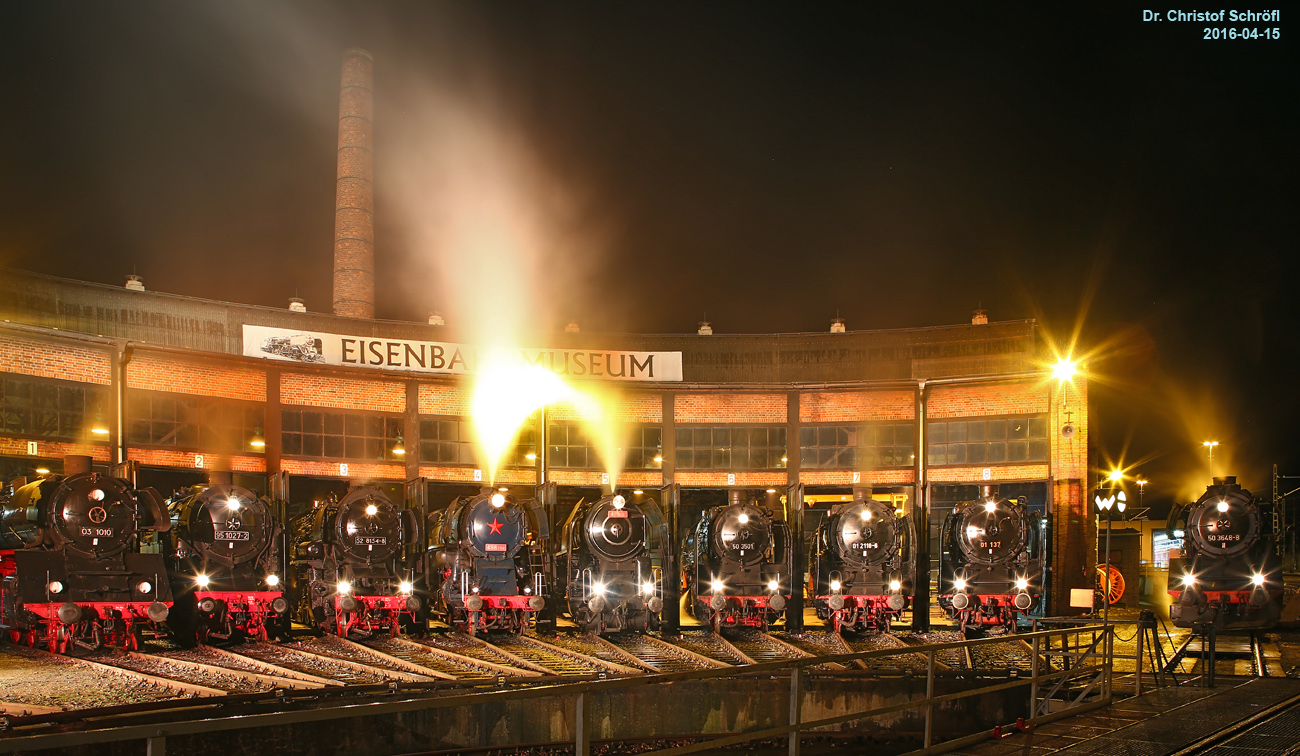 (State of planning September 2022)

General information
The Dresdner Dampfloktreffen has established its place among railway and steam galas in Saxony for many years. Vintage trains from various regions of Germany as well as from neighbouring countries intend to approach Dresden, for their travellers and rolling stock to attend this gala. Similar to previous years, we intend to have illuminated evening photo sessions (Friday and Saturday) and a live music concert "Steam & Dixie" (Saturday night). An attractive programme of half-day and full-day excursion trains will be offered. We cordially welcome you as our travelling guests, in addition to "feel" the atmosphere in our depot.
The year 2022 is a very special year for us. In 1872, the first shed was built with 19 tracks to heat steam locomotives. Today our roundhouse is on the same place. The original shed was the first step in building the former Bw Dresden Altstadt as a railway depot area, which would have it's 150th anniversary now.
The exact date of our festival is another anniversary. 45 years ago, at night between September 24th and 25th, the summer schedule ended including the regular operation of steam locomotives hosted in Dresden-Altstadt. The last locomotives in Dresden-Altstadt were pessenger express train locomotives, daily used for the relation Dresden-Berlin, even until 1977-09-1977. After that date, the express trains were hauled by Diesel locomotives. For that reasons we will bring both anniversaries to the topic of our festival this year.
Tickets for our "D378/379 ISTROPOLITAN" are available in our webshop: section Special Train Tickets.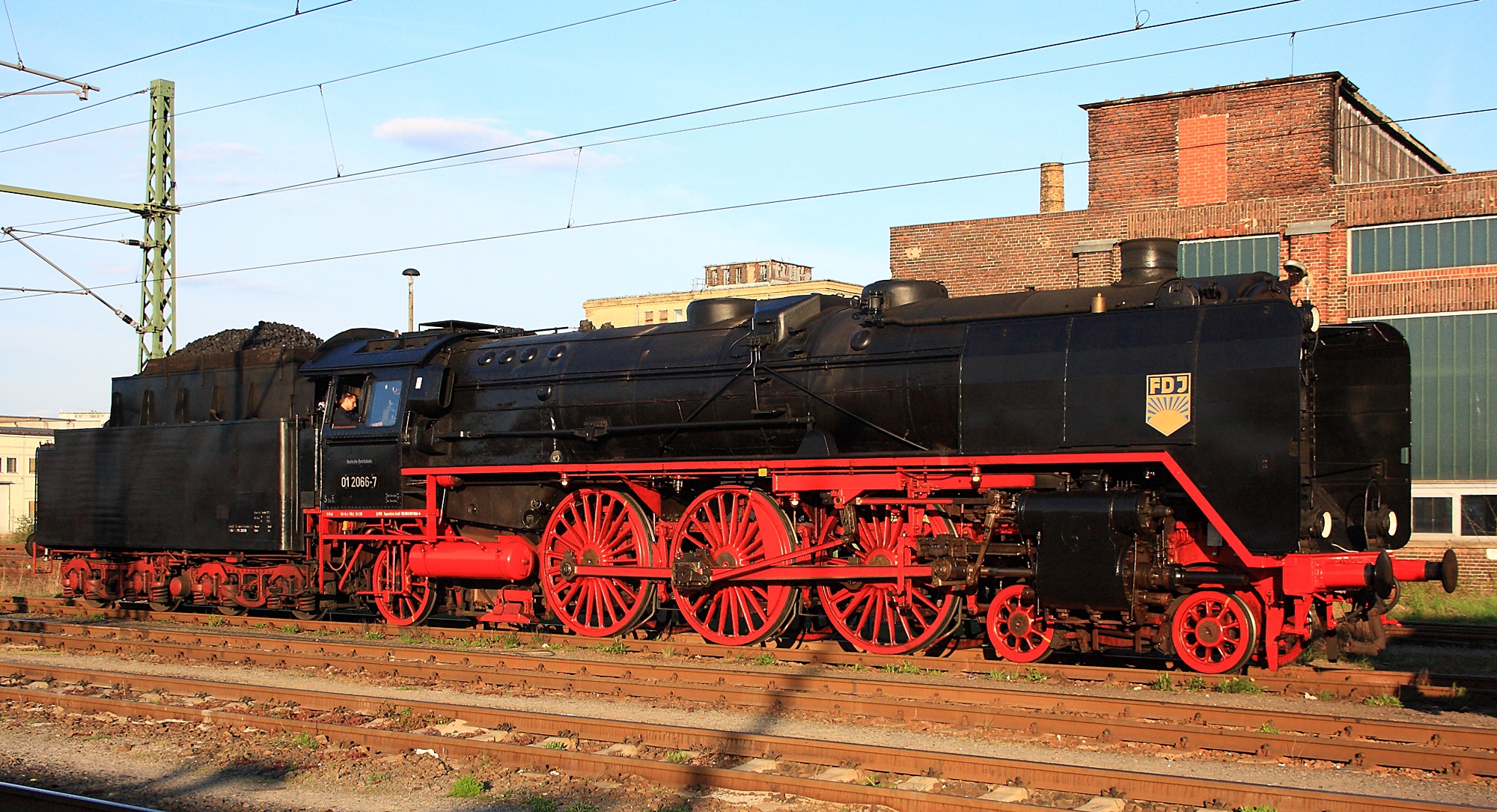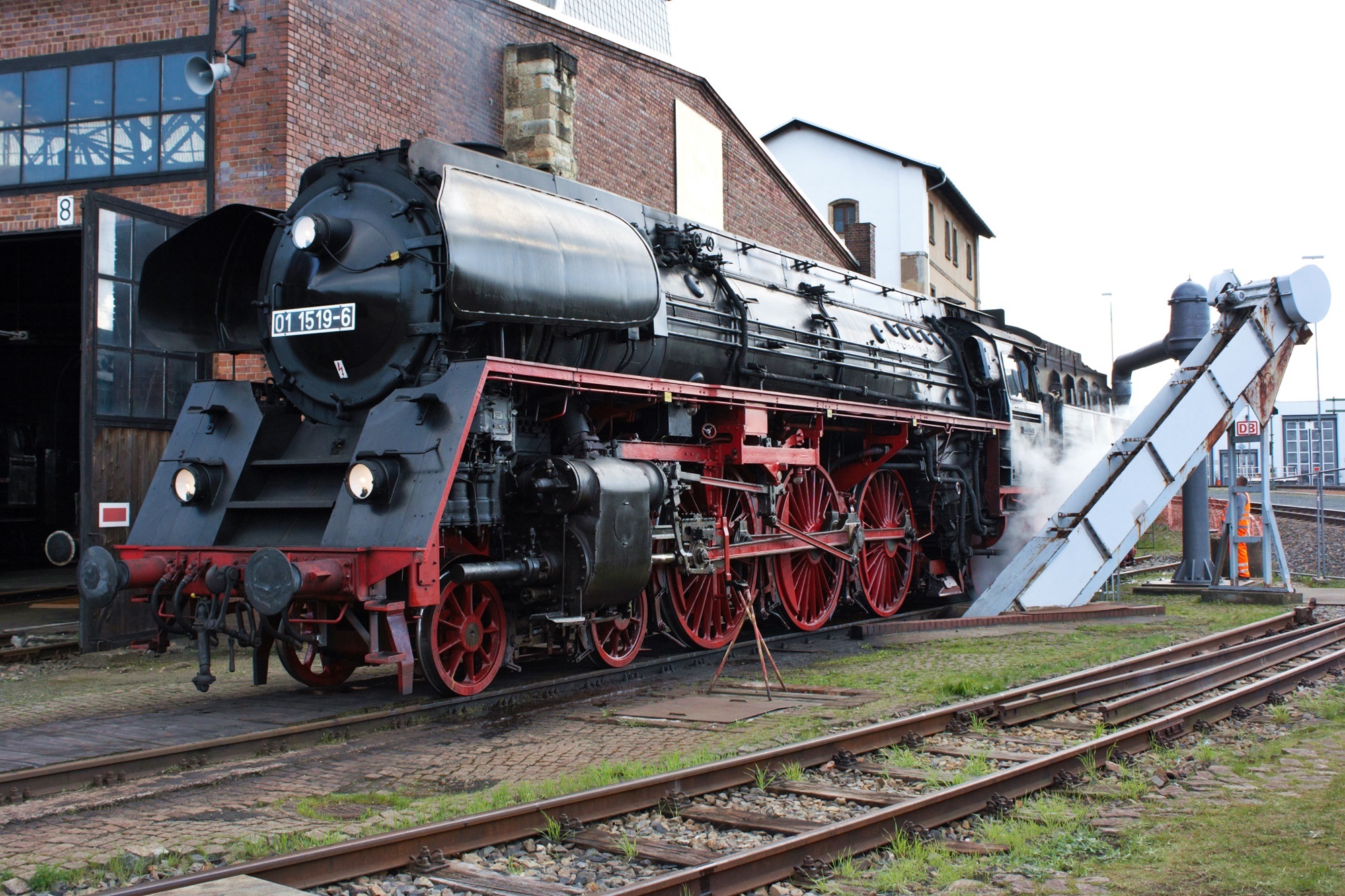 Again we will organize our nightly locomotive presentation for photographers around the turntable as well as the live music event "Dampf & Dixie" (Steam and Dixie music) in our roundhouse.
Planned locomotives
01 2066 - Bayerisches Eisenbahnmuseum Nördlingen e.V.
01 1519 - Eisenbahnfreunde Zollernbahn e.V.
35 1097 - IG 58 3047 e.V.
50 3648 - Sächsisches Eisenbahnmuseum Chemnitz-Hilbersdorf e.V.
52 8141 - Ostsächsische Eisenbahnfreunde e.V.
112 481 - MaS Bahnconsult
E77 10 - IG Bw Dresden-Altstadt e.V. / DB Museum
211 013 - IG 58 3047 e.V.
T679.1600 - ČD Nostalgie
T478.1002 - ČD Nostalgie
Unfortunately the following invited locomotives had to cancel their participation:
03 2155 - WFL, and it's replacement 50 3616 as well
E94 192 - Bayerisches Eisenbahnmuseum Nördlingen e.V.
E16 09 - LDK Leipzig /Bahnpark Augsburg
111 002 - LDK Leipzig

We still want to offer you a wide range of different locomotives to our festival and send out requests for other machines, which are not confirmed right now, e.g. a type 132 (Deutsche Reichsbahn) of SRS.
Special Steam Trains
Friday afternoon:
"Rampensau": Special Steam Train via Tharandt Ramp and Klotzsche Ramp (50 3648 pulling uphill; 112 481 pushing uphill and pulling downhill)

Saturday:
Steam Express Train "D378/379 ISTROPOLITAN" to Berlin-Schöneweide (incl. admission to their railway museum) (01 2066 and 01 1519)

Steam

Night

Express Train to Cottbus (35 1097)

Sunday:
morning: Tharandt Ramp, parallel ride to a goods train (pessenger train hauled by 01 2066 and E 77 10

, goods train hauled by 52 8141

)

Afternoon: Steam train to Löbau and Ebersbach (52 8141 pulling to Löbau and 112 481 pulling back to Dresden)

All trains depart and arrive at Dresden main station. For spontaneous travellers, there are one or two coaches on each train, where tickets can be bought on the train.

Program frame around the Steam Engine Festival
The Dresden Transport Museum is partner to our festival, again. It's depot along Zwickauer Straße (roundhouse 4 and shed 5) will be opened as well as it's main building at Johanneum (right beside the Church of our Lady) in Dresden downtown. A historic bus shuttle will connect the festival ground Zwickauer Straße with Dresden main station and Johanneum.

The Steam Engine Festival is surrounded by a colorful program. Dealers offer a wide range of railway or model railway articles. Different caterers offer food and drinks. Periodically we guide you through our historic model railway section. On Friday and Saturday evening there are our special events, the nightly locomotive presentation on our turntable (both days), where the locomotives are presented in a special illumination, as well as the live music event "Dampf & Dixie" on Saturday. The events start at 7 pm. (special admission). Our cafeteria offers drinks right behind the roundhouse.
Between 10 am. and 6 pm. you can book a ride in a steam locomotive's cabin, starting on the track beside the turntable. Locomotives are presented on the turntable and you can listen to explanations about them.
Partners to the 14th Dresdner Dampfloktreffen